Are you game for a thrilling and magical experience? Then you would definitely love to smoothly drift over vineyards, orchards, fairy chimneys, beautiful valleys occasionally draped in pigeon houses and floating up over ravines as you submerge yourself in the breathtaking views. Yes, you get to witness all these varied colours of the landscape when you take a Hot Air Ballooning trip in Cappadocia. Known across the globe as one of the most favourable places to fly in hot air balloons because of the awesome landscape and formidable weather conditions, Cappadocia offers several types of balloon tours depending upon the flight duration and the services available.
And the thrill begins!

Once you book for a balloon tour, the crew picks you from your hotel in a cosy, air-conditioned minivan, and you are driven to the takeoff site, as you enjoy fabulous glimpses of the Turkish countryside. On reaching the balloon office, you are treated to a complimentary buffet breakfast comprising of pastries, fruits and salads.
Then you are taken to the launch field where you can see the 100 feet hot air vehicle being inflated. This is followed by a cool dawn launching which makes you smoothly float over the Cappadocian moonscape. A volcanic landscape greets you as you come across a plateau with heights of more than 3,281 feet above sea level, interspersed by thin, tall, volcanic spires. While flying across the valleys, do not forget to closely observe the rocks and other geological formations, as the pilot explains everything through in his interesting commentary. You will be able to see houses and churches beautifully carved amidst the rocks.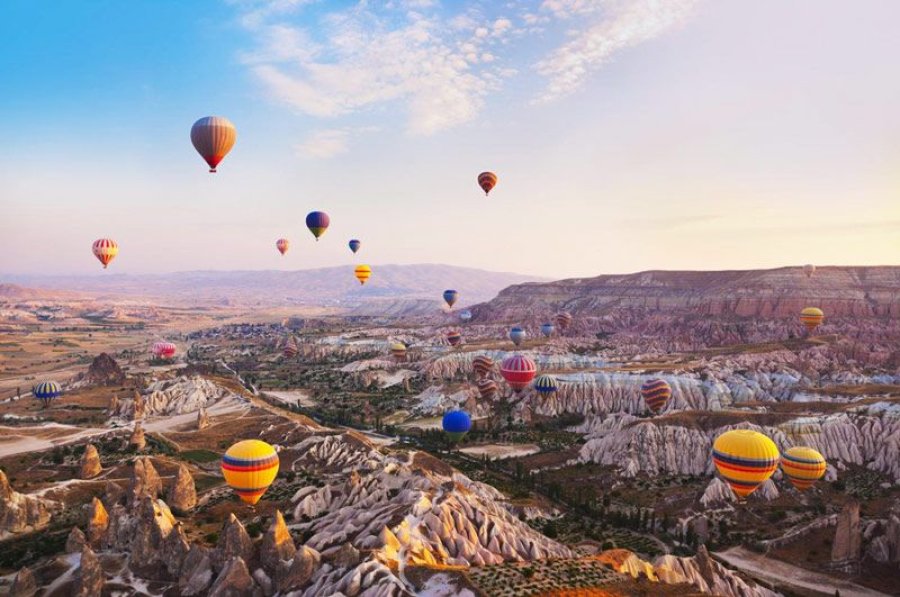 Finally, your flight, which lasts for around an hour (depending on the trip you choose), ends with landing softly in a field. After your retrieval, the crew invites you to raise a toast to a triumphant aeronautical adventure. You are also presented with a certificate of flight in order to honour you as a flight souvenir. As you are escorted back to your hotel in a relaxing drive, you cannot help but reflect upon the fond memories of a wonderful flight.

If you want to get the best out of Hot Air Ballooning in Cappadocia, try flying between the months of April and October, when the dawn winds are soothing and the skies are smooth. However, some agencies will also allow you to fly during the winter season on days when the weather is favourable. Usually, each flight carries 20 people and lasts for an hour, but if you want a more refreshing experience, there is the 1.5-hour ride for you, which carries 12 people. We also can cater to special balloon flights including wedding proposals, honeymooners, sunset tours and other surprises.

View more information at Hot Air Ballooning in Cappadocia page or email us at info@faroutturkey.com.